Who's the greatest?  Who wore it best?
Which is better?
There will always be popular opinion and then there will be fact. You can decide which is which.
Who is the greatest?
MJ or Kobe?  Superman or Spider-man?
Biggie or Tupac?
I'm quite sure who I think is the best is in the minority for all three.
Who wore it best?
Kim K. or Mrs. Doubtfire?  You tell me, but somehow I think WE just expected more.  Sorry Kim K.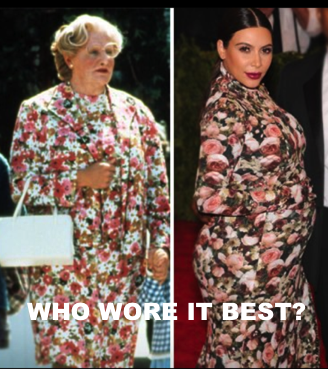 Which is better?
Mac or PC?
I don't own and have never used a Mac, so PC all day.  Mickey D's or Burger King?
Just for the record, I prefer a Whopper (off the broiler) with McDonald's fries.
Blogger or WordPress?
This question has been haunting me for over a year now.  When I first started this blog I didn't know anything about blogging.  Are you surprised?  Seriously, I had no idea what the difference was between Blogger and WordPress.
My husband mentioned that I might like Blogger better explaining that it would be the faster way for me to get started.  He had designed a few websites before and he knew I wasn't trying to learn HTML, CSS, C+, C++ or any other coding language for that matter.
He was right and in about 30 minutes I had chosen a name, a template and had published my first post. That was then and this now.   I want more customization, plugins, widgets; you know, the whole kit and caboodle.  I'm trying to take this blog to the next level.
Please don't label me as a bandwagon copycatter, because I have been thinking about moving to WordPress for quite some time.  Not because I think Blogger is subpar, but because everyone (when I say everyone I mean pro and influential bloggers, blog networks and blogging leaders) talk about WordPress like it's the shiznit! the bomb diggity!
I'll admit it.  I drank the Kool-aid, and after much thought and consideration, I've decided to make that move. Believe me when I say, "I want the shiznit bomb diggity too!"  With that being said, I have a lot of work to do.  I will be taking a brief hiatus as I begin to move from Blogger to WordPress.
I've read so many posts on why you should move from Blogger to WordPress and why you should never migrate from Blogger to WordPress.  Both arguments are quite compelling, but at this time I have to check to see if in fact the grass is greener on the other side.
There are services out there that will migrate Blogger blogs and all the posts to WordPress for a fee.  That would be too easy. I have more than enough time – more time than money actually. I can read and I am completely capable of following directions.  It just seems like grunt work anyway.
GRUNT! Do some more.  
GRUNT! GRUNT!  Do some more.
In the meanwhile, I'll be back.
Oops!
I mean, I'll keep you posted.  It shouldn't be too bad.
Right???
I'm Just Sayin'…(Damn!) 


Have you considered moving from Blogger to WordPress?
Did you move from Blogger to WordPress?
Tell me about your transition!
Delegation that traveled to tahiti and easter island,
/essayclick.net
and the second was about?