I recently had the opportunity to attend the Sits Girls Mini Bloggy Boot Camp-Chicago sponsored by Invisalign.  Looking back, I'll admit I was very nervous and extremely excited to be attending my first blog conference in the "big city".  I didn't know what to expect and being so nervous, I didn't know what to wear.
From top to bottom, I didn't have a clue.  It's been over a year since I've been in a professional setting so I wasn't sure if capri pants would be too casual,
if jeans would be too mommy, if a pantsuit would be too bitchy.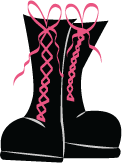 I finally chose my attire based on the season (Spring), the time of day (5pm) and the location it was being held (Downtown).  Growing up my mother often referred to such events as an "after 5" party.  This wasn't after 5, so what was I suppose to do.
The Hotel Allegro is rather swanky, and a ballgown would have probably been the best choice, but I decided on wearing a semi-formal blouse, black capris and Mary Jane wedge heels.  I wanted to be comfortable and look professional without being under or overdressed.  So a few Tweets later, off to the boot camp I went.
After some confusion with the valet attendant – It was paid for. It wasn't paid for.  I parked at a nearby parking garage arriving just minutes before boot camp began.
I can honestly say, everything I wanted to know about building a blog, such as how to earn money while blogging, I learned in boot camp.
Unfortunately, you can't unring the bell.  The past is the past and I can only move forward.  However, there are a 5 key points I wished I would have known from jump street:
Your blog page needs to load within 3 seconds – anything longer than this is TOO LONG!  Sponsors do not not want to engage in a social media partnership that might allow a potential customer to think about ANYTHING!  Faster is better – you can check your blog speed at Pingdom.   Hint:  Get rid of any unnecessary plugins!  They slow you down.
Own Your Space – not just the domain name!   I'm on Blogger and even worse, blogspot.com  I don't own or control it.  If Google decides that it goes away, IT GOES AWAY!!  You do not own your space on Blogger at YOURNAME.com or YOURNAME.BLOGSPOT.COM  – owning your domain name is not the same as owning your own space.
Note to Self:  Best Practice is having a Wordpress blog with ownership of your own domain name.
Social Engagement –  Who do you engage with? Sponsors prefer bloggers who have a Twitter audience of at least 5K followers and a blog post page with 10K page views each month! Your KLOUT Score doesn't matter.  Hint:  Know your metrics!
Not a "niche blogger"? Choose 5 Categories – become an expert – in something; Build Yourself, Entertain & Inform:  Beauty, Fashion, Natural Hair, Parenting, Relationships, Recipes, Fitness, Diet, Computers, SEO something…Develop a presence.
You should not use profanity in your header, tagline, bio, etc…OOPS!  If I take away my header, my tagline; I take away my Oomph! If it wasn't for the all the shit that made me say Damn! I wouldn't have anything to blog about.
Aside from the being very informative, the blogging boot camp was a great way to connect with other bloggers and I am so happy that I went, but I can't divulge everything I learned in a skinny version blog post.
If I did, why would anyone ever attend?
Besides, I don't have the time.  I'm too busy contemplating what tactics I should use to gain more pageviews, whether or not I should change my name and would it be best to move over to the dark side.
I guess sometimes, the pearl is worth the dive.
I'm Just Sayin'…(Damn!)
Have you ever attended a blogging boot camp or blogger's conference?
Let me know in the comments!
Related articles